MISSOURI CHARGE CODE MANUAL
*CLICK ON THE CHARGE CODE MANUAL COVER BELOW TO VIEW THE ELECTRONIC CHARGE CODE MANUAL UPDATED 8/26/2016*
The 2016 Missouri Charge Code Manual has been updated with all charge code changes through 8/28/2016. Click on the Charge Code Manual cover below to view the updated Missouri Charge Code Manual in electronic PDF format. Users may download and print this manual or save it to their desktops. When viewing the manual in electronic format, users may click the key sequence "Ctrl F" to use the Find feature for code searches.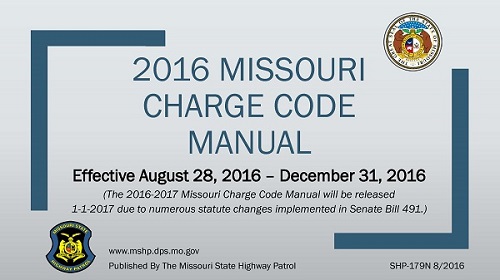 SENATE BILL 491 INFORMATION (UPDATED 12/8/2016 - EFFECTIVE 1/1/2017):
The Purpose of the Charge Code:
The Missouri Criminal Records Repository was initially established for the sole purpose of enhancing law enforcement safety. It tracks statistics for arrest data and conviction data using Charge Codes. It has since evolved into other non-law enforcement uses post-9/11 and is now used in the hiring practices of people in public trust positions such as teachers, nurses, daycare providers, nursing home employees, etc.
RSMo 43.500 defines "Central Repository," as the Missouri State Highway Patrol Criminal Records Division, and assigns it the responsibility of compiling and disseminating complete and accurate criminal history records.
RSMo 43.512 reads that the Central Repository, with the approval of the Missouri Supreme Court, shall publish and make available to all criminal justice officials, a standard manual of codes for all offenses in Missouri. The manual of codes shall be known as the "Missouri Charge Code Manual," and shall be used by all criminal justice agencies for reporting information required by sections 43.500 - 43.530.
RSMo 43.503 mandates that ALL law enforcement officers who arrest misdemeanors and felons shall, without undue delay, submit to the central repository fingerprints and appropriate charges and charge codes of all persons arrested.
Crimes to be reported, exceptions--method of reporting--repository of latent prints.
RSMo 43.506. 1. Those offenses considered reportable for the purposes of sections 43.500 to 43.543 include all felonies; class A misdemeanors; all violations for driving under the influence of drugs or alcohol; any offense that can be enhanced to a class A misdemeanor or higher for subsequent violations; and comparable ordinance violations consistent with the reporting standards established by the National Crime Information Center, Federal Bureau of Investigation, for the Federal Interstate Identification Index System; and all cases arising under chapter 566. The following types of offenses shall not be considered reportable for the purposes of sections 57.403, 43.500 to 43.543, and 595.200 to 595.218: nonspecific charges of suspicion or investigation, general traffic violations and all misdemeanor violations of the state wildlife code. All offenses considered reportable shall be reviewed annually and noted in the Missouri charge code manual established in section 43.512. All information collected pursuant to sections 43.500 to 43.543 shall be available only as set forth in section 610.120.
**UPDATE: The Missouri Charge Code datasets have been updated effective 08/24/2016**
Click below to obtain the current version of the Criminal Charge Code Datasets:
The Charge Code CSV dataset is a complete listing of all data elements associated with each criminal charge code contained within the Patrol's criminal history code file. The Charge code CSV dataset contains both the old and new charge code formats, allowing for a one-to-one comparison between both formats.
Updated 11-02-2015:

One-to-One Comparison Table of New Charge Codes to Old Charge Codes:
Click the Links Below for Current Charge Code Changes and Historical Charge Code Manuals
The hard copy version of the Missouri Charge Code Manual is published and mailed out to law enforcement agencies once each year. This webpage will be kept up-to-date throughout the year with revisions, changes and corrections. Please save this page to your Favorites Bar and check back often throughout the year for important updates..
For more information, or to order hard copies of the Charge Code Manual, please contact:
Heather Elder, Charge Code Specialist
Missouri State Highway Patrol
Criminal Justice Information Services
1510 East Elm Street
PO Box 9500
Jefferson City, MO 65102
Phone: (573) 526-6153 ext. 2638
Toll-Free: (800) 877-3452

mshpcjis@mshp.dps.mo.gov
** Information on this page provided in cooperation with the Missouri State Highway Patrol and the Office of State Courts Administrator.