Job Fairs/Recruiting Events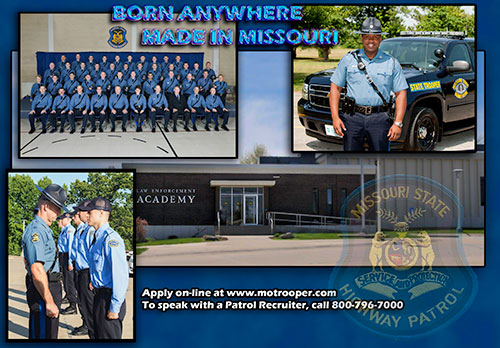 Come out and meet Recruiter Sergeant R.J. Parr for the Missouri State Highway Patrol Eastern Region. He is responsible for recruiting activities in Troop B, Macon and Troop C, Weldon Spring. See schedule of Job Fairs and Recruiting Events for the Eastern Region below.
NOTE:* Events on Military Bases are only opened to military personnel. Some colleges and universities do not open their events to the public. Contact your local recruiter before attending the event.
Job Fairs/Recruiting Eastern Missouri Events
Events
Location
Dates
Time
Koch Road Supersite
3180 Koch Road - St. Louis
May 7, 2018
9:00 A.M. - 11:00 A.M.
Maplewood Driver Examination Station
3256 Laclede Station Suite 100
May 7, 2018
12:30 P.M. - 2:30 P.M.
St. Charles Driver Examination Station
2495 Raymond Road - St. Charles
May 14, 2018
9:00 A.M. - 11:00 A.M.