Gaming Division - History
The Gaming Division, pursuant to a memorandum of understanding with the Missouri Gaming Commission, provides criminal and regulatory enforcement of gaming operations within the state. Under the command of Captain Norman A. Murphy, the division is divided into four sections: Administrative Services, Investigations, Eastern District Enforcement and Western District Enforcement. The Gaming Division is one of the Patrol's largest divisions, with an authorized strength of 128 uniformed members and three civilians. The staffing of 128 troopers assigned to the Gaming Division does not impact or reduce the number of troopers assigned to patrol Missouri roadways, as allocated by the legislature.
The Gaming Division was established on May 1, 1994, by order of Colonel Fred M. Mills, and was the first new division established within the Patrol since the creation of the Division of Drug and Crime Control in 1983. Strict criminal and regulatory enforcement, as well as meticulous investigations are essential elements to the successful regulation of legalized gambling in Missouri. Because of its history of service with distinction and integrity, the Patrol was given the responsibility of providing investigative, regulatory and criminal law enforcement services, which ultimately police the gaming industry.
The Administrative Services Section, under the supervision of Lieutenant Mark A. Bielawski, oversees the collection and preservation of evidence and property, motor equipment fleet management, training, criminal records and case management, overtime, personnel actions and special projects. During calendar year 2013, this section was responsible for the management and maintenance of 132 vehicles assigned to the Gaming Division. The Administrative Services Section processed 1384 containers of criminal evidence during 2013.
The Investigative Unit, under the supervision of Lieutenant Edward J. Aylward, conducts comprehensive background investigations of individuals, companies and suppliers applying for licensure with the Missouri
Gaming Commission. The Investigative Unit was involved with 382 investigations during the past year to determine the suitability of licensees, suppliers and vendors. The unit is responsible for providing oversight and conducting investigations related to Missouri's 287 licensed charitable gaming operations and is also charged with conducting background investigations on both charitable gaming and riverboat supplier companies.
The Enforcement Section is divided into two districts. The Eastern District is under the supervision of Lieutenant John M. Enderle. The Western District is under the supervision of Lieutenant Andrew O. Tourney. Officers assigned to the Enforcement Section are responsible for enforcing both Missouri criminal statutes and Missouri Gaming Commission regulations on the 13 licensed casino properties. In 2013, Troopers assigned to the Enforcement Section conducted 2,754 criminal investigations, made 4,411 arrests, generated 10,110 Gaming Reports and processed 728 disassociated persons (problem gamblers).
All four sections of the Patrol's Gaming Division are provided clerical support from Administrative Office Support Assistant, Ms. Jonna R. Farley, Clerk Typist, Ms. Meghan E. Basinger and Clerk Typist, Mrs. Kristin Kayser.
The following chart depicts arrests for all casinos statewide: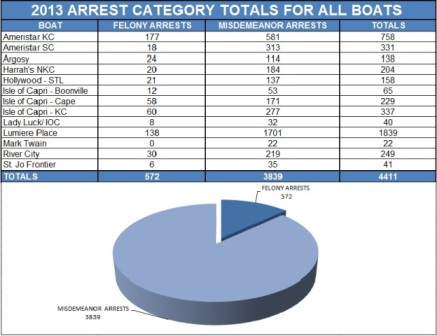 Staff
Division Director
Captain Norman A. Murphy


Coordinators
Administrative Services
Lieutenant Mark A. Bielawski


Investigative Unit
Lieutenant Edward J. Aylward


Boat Enforcement
Lieutenant Andrew O. Tourney - Western District
Lieutenant John M. Enderle - Eastern District


Administrative Assistant
Office Support
Ms. Jonna R. Farley
Phone: (573) 526-2323
Phone: (573) 526-4080
Fax: (573) 526-1112
Clerk Typist
Ms. Meghan E. Basinger
Phone: (573) 526-1994
Clerk Typist
Mrs. Kristin Kayser
Phone: (573) 522-3029