Job Fairs/Recruiting Events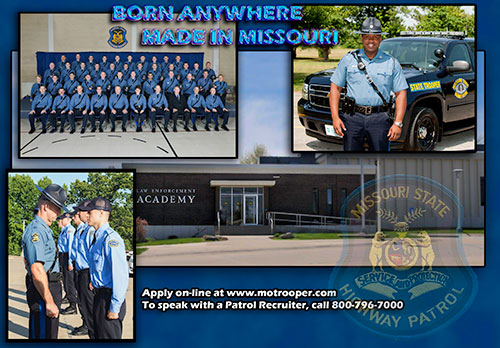 Come out and meet Recruiter Sergeant Brad Haggett for the Missouri State Highway Patrol Central and Southeast regions. He is responsible for recruiting activities in Troop E, Poplar Bluff, Troop G, Willow Springs, and Troop I, Rolla. See schedule of Job Fairs and Recruiting Events below.
NOTE:* Events on Military Bases are only opened to military personnel. Some colleges and universities do not open their events to the public. Contact your local recruiter before attending the event for the Central and Southeast Region.
Job Fairs/Recruiting Central and Southeast Missouri Events
Recruiter
Events
Location
Dates
Sergeant Brad Haggett

Jackson State Community College

Jackson, TN

Gymnasium

March 29, 2017

9:00 A. M. - 12:00 P. M.

Sergeant Brad Haggett

Trooper Applicant Testing

(Applicants must pre-register at www.motrooper.com)

Troop I Headquarters

Rolla

April 01, 2017

9:00 A. M.

Sergeant Brad Haggett

Criminal Justice Day

University of Tennessee- Martin

Martin, TN

University Center

Room 206

April 03, 2017

9:00 A. M. - 1:00 P. M.

Sergeant Brad Haggett

Three Rivers Community College

Poplar Bluff, MO

Bess Activity Center

April 06, 2017

10:00 A. M. - 3:00 P. M.