Job Fairs/Recruiting Events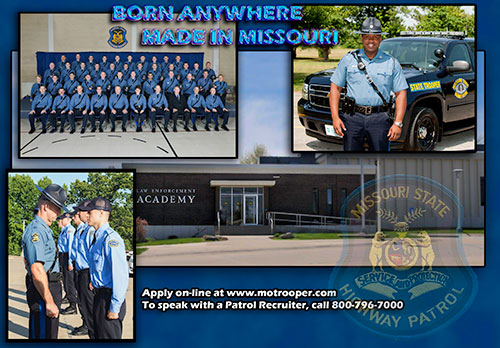 Come out and meet Recruiter Sergeant Brad Haggett for the Missouri State Highway Patrol Central and Southeast regions. He is responsible for recruiting activities in Troop E, Poplar Bluff, Troop G, Willow Springs, and Troop I, Rolla. See schedule of Job Fairs and Recruiting Events below.
NOTE:* Events on Military Bases are only opened to military personnel. Some colleges and universities do not open their events to the public. Contact your local recruiter before attending the event for the Central and Southeast Region.
Job Fairs/Recruiting Central and Southeast Missouri Events
Recruiter
Events
Location
Dates
Sergeant Brad Haggett

Missouri State Fair

Sedalia, MO

August 7-9, 2014

9:00 a.m. - 5:00 p.m.

Sergeant Brad Haggett

Congresswoman Vicky Hartzler

Career Fair

Cowan Civic Center

Lebanon, MO

August 21, 2014

10:00 a.m. - 2:00 p.m.

Sergeant Brad Haggett

Troop I Recruiters

Army ACAP Mini Job Fair

Ft. Leonard Wood

National Guard Armory

August 21, 2014

11:00 am.- 2:00 p.m.