Crash Survivor's Story'
At 5:40 p.m., December 20, 2008, Mr. Steven Fagan and his eight-year-old son, Tyler, both from Peculiar, MO, were traveling on U.S. Highway 71 in Cass County. At the intersection of U.S. 71 and Cambridge Road, another vehicle failed to yield. As the vehicle turned onto the West Outer Road of U.S. 71, it struck the Fagan's truck.
"I was talking with my son, having a good time," said Steven. "We were headed home. I saw a white flash and then bang. The impact was on Tyler's side. We hit a ditch and went airborne. I told Tyler to hang on. We started to flip. We rolled two or three times. The only thing going through my mind at the time was my son. We were lucky. Seat belts saved our lives."
When it was struck, the truck skidded out of control and off the right side of the roadway, overturning before coming to rest. Steve was wearing a seat belt and Tyler was sitting in a booster seat fastened in with the seat belt.
"We have always stressed seat belt usage," said Sally Fagan, Steven's wife. "Everyone that gets into our cars wears a seat belt. Seat belts save lives, but you need to wear them appropriately, too."
Both Steven and Tyler sustained minor injuries in the crash. The day after Christmas break, Tyler returned to school. Tyler's teacher read the newspaper article to the class and they discussed the importance of wearing a seat belt and how seat belts do save lives. Tyler has also shared his story with his Cub Scout pack.
"Seat belts are great. They saved our lives," said Tyler.
The Missouri State Highway Patrol wishes to thank Allen Edmonds of the Belton Star-Herald for his assistance with this article.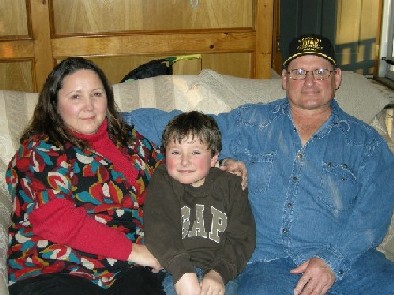 The Fagan Family: Sally, Tyler, and Steven.