Missouri State Highway Patrol Bomb Squad


Mission Statement
The Highway Patrol Squad provides investigative and explosive disposal assistance upon request from law enforcement agencies. Our officers also provide instruction in Explosive Recognition and Bomb Threat and Search Techniques to patrol recruits, basic law enforcement and members of other agencies.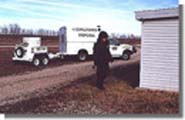 In this photo Sergeant Clark advances on a suspect package during a training exercise.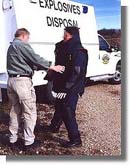 In this photo Sergeant Cordia is assisting Sergeant Clark in putting on the SRS-5 suit during a training scenario.
Contact Info
Missouri State Highway Patrol
Bomb Squad
1510 East Elm Street
Jefferson City, MO 65102
Phone: (573) 751-3452