Wear Your Life Jacket
National statistics show 79% of those killed in boating accidents were not wearing a life jacket. Last year in Missouri that number was closer to 90% of boating fatality victims not wearing a life jacket. Missouri law requires boaters to have a life jacket on board and accessible for each occupant of the boat. Children under the age of seven are required to wear a life jacket whenever they are on a boat unless they are in the cabin area of a house boat or cruiser. All jet ski and personal watercraft users are required to wear life jackets anytime they are underway. The simple act of choosing to wear a life jacket has made a huge difference for many accident survivors.
May 18-24, 2013 is National Safe Boating Week. The Missouri State Highway Patrol's Marine Operations played an active role in this campaign the week before Memorial Day Weekend. The goal of the campaign is to encourage boaters to pay extra attention to boating safety, and to always wear their life jackets.
"Wear Your Life Jacker video"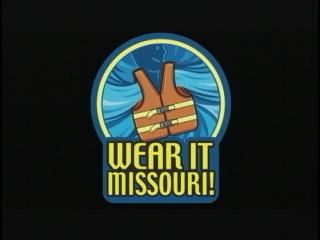 Video requires Adobe Flash Player.


The Missouri State Highway Patrol participates in life jacket promotion and giveaway programs throughout the state. The Patrol has teamed up with the Army Corp of Engineers, Camden County Health Department, Skaggs Regional Medical Center, and the Lake of the Ozarks Water Safety Council to give away more than 500 life jackets over the summer.
The life jacket industry has made great advancements in styles and comfort for recreational boaters. There are self inflating models available for adults that can be worn as light suspenders or even as small fanny pack pouch styles that can be worn around the waist. It is key for boaters to be familiar with their life jackets and ensure they fit properly. The most common error for youth life jackets is allowing children to wear ones that are too big. If a child's life jacket is too big or not tightened properly it may not support their head above the water line. Many children's life jackets are available with popular characters to encourage kids to wearing them. Of course, the best way to encourage kids to wear a life jacket is for adults to lead by example and wear life jackets themselves. For more information on life jacket styles and proper fit visit the North American Safe Boating Campaign web site at:
http://www.safeboatingcampaign.com/new-jacket-pages/recreational-jackets.htm
If you are not seeing the flash player in this area then you do not have Adobe Flash Player installed. If flash player is install and you are on a FireFox browser then upgrade to the current version of FireFox and then install the current version of Adobe Flash Player. There are known problems with Adobe Flash Player versions 9 through 10 and FireFox.