Corporal Henry C. Bruns -- Badge #169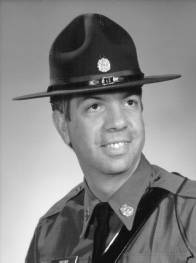 Corporal Henry C. Bruns, 41, was killed in a traffic crash on February 16, 1987, just eight days after the death of Trooper Harper. Corporal Bruns was killed when the vehicle in which he was a passenger skidded on ice-covered MO-6 in Buchanan County and hit a bridge abutment. Corporal Bruns was appointed to the Patrol in 1968 and was a classmate of Trooper Harper.
He was the 15th officer to be killed in the line of duty. Corporal Bruns was survived by his wife, a son, and a daughter.
As part of the Patrol's 75th Anniversary Celebration, employees of the Patrol have written in-depth articles about each of the officers that have been killed in the line of duty. These stories go more into the officer's life, who they were and their families, than just the circumstances of their death.