Trooper Jesse R. "Roger" Jenkins -- Badge #474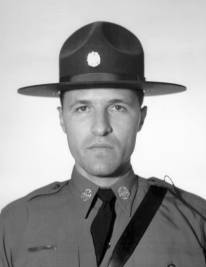 Trooper Jesse R. Jenkins, 29, was killed in the line of duty on October 14, 1969, by Robert M. Thomas. Trooper Jenkins and Montgomery County Sheriff Clarence Landrum had apprehended Thomas and another subject as they attempted to burglarize a radio and television shop in Montgomery City, Missouri, on the night of October 13. Following a preliminary hearing in magistrate court, Thomas and his accomplice were returned to the sheriff's office. While Sheriff Landrum was answering a telephone call, Thomas pulled the sheriff's .38 caliber pistol from its holster. As Thomas began backing from the room, Trooper Jenkins drew his service revolver and the two men exchanged shots, inflicting fatal chest wounds to each other. A total of 11 shots were fired, five by Thomas and six by Trooper Jenkins. No one else in the room at the time was injured.
Jesse Jenkins was a native of Belgrade, Missouri, and had been a member of the Highway Patrol for two years. His death brought the number of officers killed in the line of duty to eight.
Trooper Jenkins was survived by his wife and two sons.
As part of the Patrol's 75th Anniversary Celebration, employees of the Patrol have written in-depth articles about each of the officers that have been killed in the line of duty. These stories go more into the officer's life, who they were and their families, than just the circumstances of their death.