Corporal Michael E. Webster -- Badge #473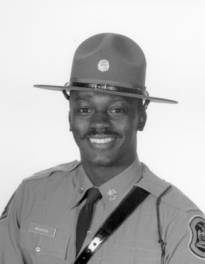 Corporal Michael E. Webster, 33, died October 2, 1993, from injuries he suffered when he was struck by a drunk driver on US-40 in Blue Springs, Missouri, in Jackson County. Corporal Webster was a nine-year veteran of the Patrol. He was survived by his wife, a six-year old daughter, and a 20-month old son.
Corporal Webster had stopped a vehicle at 3:05 a.m. on October 2, for a license violation and was talking with the driver on the shoulder of the highway. A car driven by an intoxicated driver struck the left front fender of Corporal Webster's patrol car and the left rear of the car he had stopped. The car then hit Corporal Webster who was knocked onto the hood of the eastbound vehicle and carried approximately 200 feet before the vehicle stopped. Corporal Webster was transported to Research Hospital in Kansas City by air ambulance where he died at 7:05 p.m.
The driver of the vehicle that struck Corporal Webster, Nicholas Adams, 21, of Blue Springs, MO, was charged with assault on a law enforcement officer (Class B felony) and driving while intoxicated. In February 1995, after a jury deliberated for three hours, Adams was convicted and sentenced to seven years in prison.
Corporal Webster was the 17th trooper to be killed in the line of duty since 1931.
As part of the Patrol's 75th Anniversary Celebration, employees of the Patrol have written in-depth articles about each of the officers that have been killed in the line of duty. These stories go more into the officer's life, who they were and their families, than just the circumstances of their death.