Trooper Kelly L. Poynter -- Badge #1191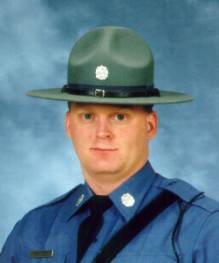 Trooper Kelly L. Poynter, age 27, was killed on January 18, 2002, while working a traffic crash on US-63 in Texas County two miles south of Houston, MO. While Trooper Poynter was investigating the initial crash, another vehicle struck and killed him and injured a wrecker driver.
Trooper Poynter is survived by his wife and two young children. He is the twenty-second member of the Missouri State Highway Patrol to lose his life in the line of duty.
The driver of the vehicle that struck Trooper Poynter was charged with involuntary manslaughter.
As part of the Patrol's 75th Anniversary Celebration, employees of the Patrol have written in-depth articles about each of the officers that have been killed in the line of duty. These stories go more into the officer's life, who they were and their families, than just the circumstances of their death.