Trooper Dennis H. Marriott -- Badge #804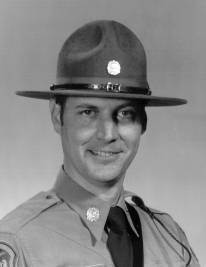 Trooper Dennis H. Marriott, 36, died June 13, 1981, from injuries suffered on June 1 when he was struck by a vehicle after exiting from his patrol car for a traffic stop. The accident occurred on US-54 south in Jefferson City, Missouri, in Cole County.
The vehicle which hit Trooper Marriott stopped momentarily after the incident and then left the scene. The vehicle was stopped a few minutes later by the Jefferson City Police Department and the female driver was found to be intoxicated and was arrested. The driver was later tried and sentenced to ten years in prison on a charge of Manslaughter.
A native of Columbia, Missouri, Trooper Marriott died of his injuries almost two weeks later at the University Medical Center. He was the 11th uniformed member of this agency to lose his life in the line of duty.
Trooper Marriott was survived by his wife and four children.
As part of the Patrol's 75th Anniversary Celebration, employees of the Patrol have written in-depth articles about each of the officers that have been killed in the line of duty. These stories go more into the officer's life, who they were and their families, than just the circumstances of their death.