Sergeant Randy V. Sullivan -- Badge #821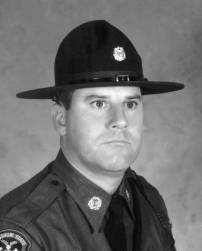 Sergeant Randy V. Sullivan, 40, was killed in a traffic crash on February 17, 1996, on MO-72 in Madison County, eight miles west of Fredericktown, Missouri. The crash occurred when Sergeant Sullivan checked a speeding vehicle by radar, turned around to overtake the violator, and, as he came over a hill, apparently ran off the roadway in a curve and struck several trees. Troopers and citizens responding to the scene found Sergeant Sullivan's patrol car engulfed in flames; Sergeant Sullivan's body was located in the car.
Patrol Recruit Christopher R. Thompson, who was riding with Sergeant Sullivan, was found outside the vehicle; Thompson sustained moderate injuries. Sergeant Sullivan, a 17-year veteran of the Patrol, was the 18th officer to lose his life in the performance of his duties.
Sergeant Sullivan was survived by his wife and three sons.
As part of the Patrol's 75th Anniversary Celebration, employees of the Patrol have written in-depth articles about each of the officers that have been killed in the line of duty. These stories go more into the officer's life, who they were and their families, than just the circumstances of their death.