Trooper Victor O. Dosing -- Badge #22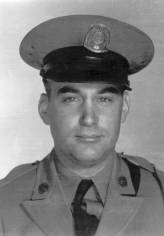 Just four days after Trooper Walker was shot, Trooper Victor Dosing, 34, became the third officer to be killed in the line of duty. December 7, 1941, was a catastrophic day in the United States and Highway Patrol history -- Pearl Harbor was bombed and Trooper Dosing was killed and Trooper Sam Graham was critically wounded in a shoot out in Southwest Missouri. The two officers had gone to the Coffee Pot Tavern, one mile south of Galloway on US-65 (now within the city limits of Springfield), to question a murder suspect. As they were approaching a door on the second floor of the tavern off an outside staircase, the suspect suddenly opened the door and fired two shots at close range. Trooper Dosing fell, mortally wounded in the head. Trooper Graham fired one shot after being struck and fell to the ground. After the killer's revolver jammed, he took Trooper Dosing's service revolver and killed himself.
Trooper Dosing was survived by his wife and two daughters. A third daughter was born after Trooper Dosing was killed.
As part of the Patrol's 75th Anniversary Celebration, employees of the Patrol have written in-depth articles about each of the officers that have been killed in the line of duty. These stories go more into the officer's life, who they were and their families, than just the circumstances of their death.