Trooper Fred L. Walker -- Badge #126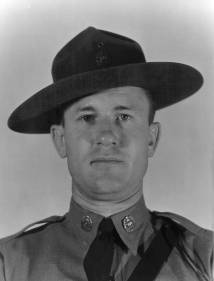 Trooper Fred L. Walker, age 33, was shot on December 3, 1941, near Ste. Genevieve, Missouri. Trooper Walker had taken two young men into custody for investigation of car theft. He had handcuffed them after overtaking the stolen car in a farm yard. After traveling a short distance with the subjects in the back seat, one of the young men pulled a hidden gun. Trooper Walker was shot and then pushed from his car while struggling for the gun. After abandoning the patrol car, stealing another car and wrecking it, the two men were apprehended in Perryville 20 hours later.
Trooper Walker died in a St. Louis hospital about three hours after his killers were captured. Trooper Walker was the second officer to die in the line of duty.
As part of the Patrol's 75th Anniversary Celebration, employees of the Patrol have written in-depth articles about each of the officers that have been killed in the line of duty. These stories go more into the officer's life, who they were and their families, than just the circumstances of their death.