Trooper Russell W. Harper -- Badge #670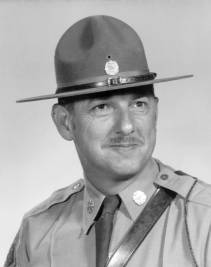 Trooper Russell W. Harper, 45, was shot and killed February 8, 1987, after he pulled over a pick-up truck being driven by Glen Sweet east of US-65 and US-60 near farm route 189 in Greene County for a traffic violation. Before Trooper Harper could stop his patrol car off the traveled portion of the roadway, Sweet emerged from the truck and fired several rounds at Trooper Harper through the patrol car's windshield. Trooper Harper was killed by the gun fire and Sweet left the scene.
After an intensive manhunt by several law enforcement agencies Glen Sweet was found hiding in an attic in a house just west of Springfield, Missouri. Sweet was convicted for the murder of Trooper Harper and was executed for his crimes by the state of Missouri. Trooper Russell W. Harper, an 18 year veteran of the Patrol, was the 14th officer to lose his life in the performance of his duties.
Trooper Harper was survived by his wife, three sons, and a stepdaughter.
As part of the Patrol's 75th Anniversary Celebration, employees of the Patrol have written in-depth articles about each of the officers that have been killed in the line of duty. These stories go more into the officer's life, who they were and their families, than just the circumstances of their death.