Sergeant David C. May -- Badge #873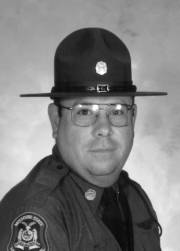 Sergeant David C. May, 41, was killed in a helicopter crash on May 17, 1999, in Poplar Bluff, Missouri, in Butler County. Sergeant May was piloting the Patrol's helicopter 77MP and died upon impact behind the Union Planter's Bank after diverting the stricken helicopter away from homes, businesses, and pedestrians in the area. This last heroic act of Sergeant May averted an even larger catastrophe. Photographer Ricky Wayne Gunnels Jr., 22, Dexter, was a passenger in the aircraft and also died of the result of the injuries he sustained in the crash.
Sergeant May was survived by his wife and two young daughters. He was an 18-year veteran of the Highway Patrol and was the 19th Missouri State Highway Patrol officer to be killed in the line of duty.
As part of the Patrol's 75th Anniversary Celebration, employees of the Patrol have written in-depth articles about each of the officers that have been killed in the line of duty. These stories go more into the officer's life, who they were and their families, than just the circumstances of their death.