Trooper Wayne W. Allman -- Badge #97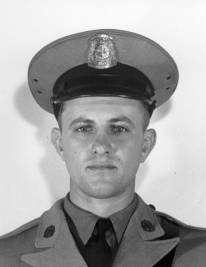 Trooper Wayne W. Allman, 34, was fatally injured in a vehicle accident on MO-35 in Cass County on October 27, 1955. Trooper Allman was responding to another accident when an oncoming car turned left in front of him. He swerved his patrol car left to avoid hitting the other car and his patrol car sideswiped a second oncoming vehicle. Trooper Allman was thrown from his vehicle when the car overturned. He died a short time after the mishap.
Although seat belts were not standard equipment in automobiles at the time, the decision was reached within a few days to install them in all patrol cars before the end of the year. Trooper Allman was the seventh officer killed in the line of duty.
Trooper Allman was survived by his wife and two sons.
As part of the Patrol's 75th Anniversary Celebration, employees of the Patrol have written in-depth articles about each of the officers that have been killed in the line of duty. These stories go more into the officer's life, who they were and their families, than just the circumstances of their death.