Trooper Gary W. Snodgrass -- Badge #732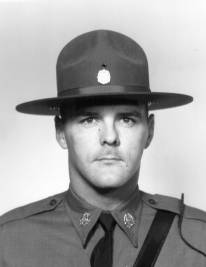 Trooper Gary W. Snodgrass, 24, was killed in an auto accident on February 21, 1970, on MO-32, seven miles east of Salem, Missouri, in Dent County. There were no known witnesses to the one-car crash, but the trooper apparently lost control of his patrol car on a curve. Trooper Snodgrass was a native of Steelville, Missouri. He was the ninth officer killed in the line of duty since 1931.
Trooper Snodgrass was survived by his wife and son.
As part of the Patrol's 75th Anniversary Celebration, employees of the Patrol have written in-depth articles about each of the officers that have been killed in the line of duty. These stories go more into the officer's life, who they were and their families, than just the circumstances of their death.