Sergeant Robert A. Guilliams -- Badge #235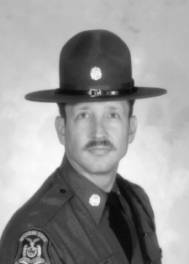 Sergeant Robert A. Guilliams, 41, was killed in a traffic crash on February 16, 2001. Sergeant Guilliams was responding to a previous traffic crash when he lost control of his patrol car on Southbound Interstate 55 in Pemiscot County approximately sixteen miles north of the Arkansas line. Sergeant Guilliams' patrol car slid off the rain-soaked roadway at approximately 0420 hours and struck a bridge abutment in the median of I-55.
Sergeant Guilliams was survived by his wife and two young children. He was the twenty-first officer of the Missouri State Highway Patrol to lose his life in the line of duty.
As part of the Patrol's 75th Anniversary Celebration, employees of the Patrol have written in-depth articles about each of the officers that have been killed in the line of duty. These stories go more into the officer's life, who they were and their families, than just the circumstances of their death.