Trooper William R. Brandt -- Badge #195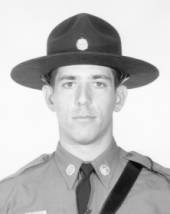 Trooper William R. Brandt, 23, lost his life on June 12, 1970, when a tornado blew his patrol car into a concrete bridge abutment on US-36, near Macon, Missouri. Trooper Brandt was tracking the storm when the incident occurred. The same storm which took Trooper Brandt's life, caused extensive damage to Troop B headquarters, ripping the roof completely off and blowing down the 325 foot radio tower; luckily nobody was injured at the headquarters.
Trooper Brandt was a native of Brunswick, Missouri, and had been appointed to the Patrol in 1968. He was the tenth member of the Patrol to lose his life in the line of duty.
Trooper Brandt was survived by his wife.
As part of the Patrol's 75th Anniversary Celebration, employees of the Patrol have written in-depth articles about each of the officers that have been killed in the line of duty. These stories go more into the officer's life, who they were and their families, than just the circumstances of their death.